Regular price
Sale price
€53,32 EUR
Unit price
per
Sale
Sold out
Get your antenna up high without drilling holes. Can be mounted on Windows, Tiles & Flat Metal Surfaces. For internal and external use.

Heavy Duty Antenna Suction Mount
Can be mounted on Windows, Tiles & Flat Metal Surfaces.
No Holes or Drilling Required!
Extremely Easy Install.
Suction Pads rated for 60KG of weight.
40cm Stand-Off (Great for clearing Eve's of buildings)
Excellent wind loading strength.
Thick-walled 38MM diameter tubing.
Compatible with all of our Helium Antenna Range. (7.5dBi, 9dBi, 13dBi not supported. Use at own risk.)
Important Note
Please read this critical note below before installation of this suction Mount product.
It is standard practice to provide a back-up securing system for any Antenna Installation which is made at height where Antenna mount failure could present a critical risk of personal harm to the public from being struck by a falling antenna and other damages.
It is therefore a condition of supplying this item and a mandatory condition of use that a back-up lanyard type wire rope or some other suitable sort of securing device is fixed and fitted to this Antenna Mount to secure it at height to mitigate any risk of Suction mount/antenna mount failure and any corresponding risk of injury to the public.
This is for public safety and is there to negate the risk of suction mount failure through changes in temperature or wind loading /vibration.
If the Antenna is mounted in an area where there is any chance of the danger to the public from an Antenna Mount failure, a securing device/restraint must be provided.
We accept no liability in the event of failure of this suction mount product. It is the responsibility of the customer/installer/user to provide a restraining device to mitigate any risk to the public of the Antenna mount failing and any risk to the public from a failing antenna.
Should you be unable or unwilling to provide this back up safety securing device to this product, please return this product to us for a full refund.
View full details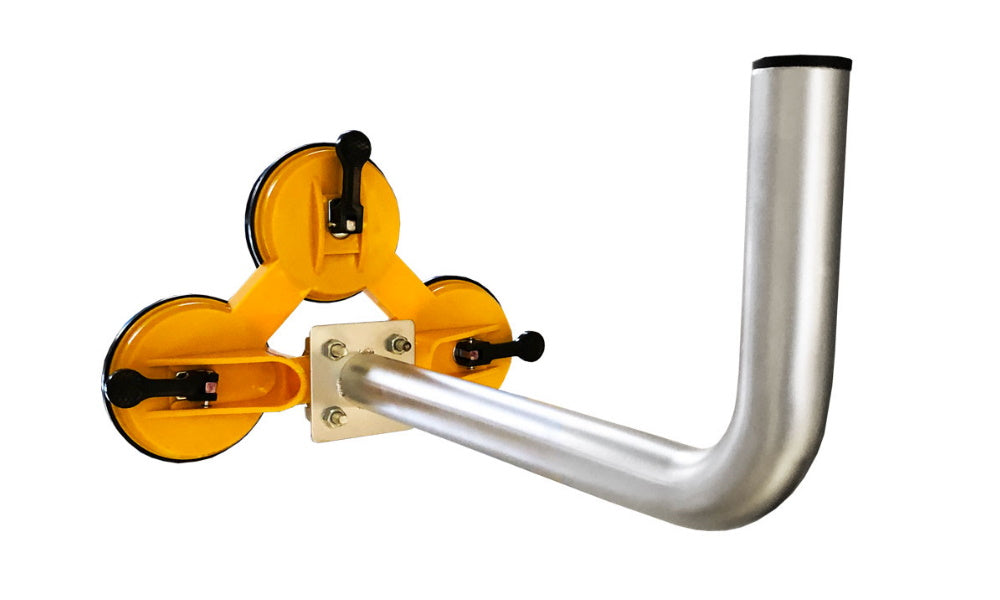 I want to start by saying that this is my only and one negative review I have left for online store ever.
My story starts like this: less than a year ago, I bought this (overpriced) item "Heavy Duty Antenna Suction Mount – Hexaspot", because I trusted the store (recommended by other members on discord). How wrong I was…
Shortly before December the suction cups became problematic and could not hold even the weight of the metallic mount, which accompanied the product. Admitting my mistake that I didn't have backup mechanism, but just the cable through window, the suction cup failed and flipped over as a result to break my expensive and favorite 8dBi RAK wireless antenna.
I must highlight that due to the cable-through-window, the suction mount did not fall and there is not a single mark on it, and it was "just" the fiber glass antenna that hit the wall and broke.
I contacted the support for the issue. Then "Tobias" started putting all the blame on me that I violated the warranty rules by placing another antenna from the recommended ones, and that I broke the suction cups during the fall, which has never happened!
Then, he recommended me to replace the suction cups at my own cost and "unfortunately no refund can be given".
I have shopped hundreds of products from online stores throughout internet, Amazon, and other cheap Chinese stores, and it is the first time that "in warranty period" a seller behaves like this for such an expensive product!I don't know if the store has financial issues and tries to void responsibility for everything, but the respect to the customer is something that shows professionalism. I have myself a business, I know that some situations are hard, but I am shocked of how irresponsible answers I got on this matter from Hexaspot.
To sum up, if a suction cup you sell via your store becomes problematic within the warranty period, this part at least, should be refunded or replaced by a new one.
Bad item
the suction itself may hold 60kg but the montage system didnt even hold less than 10kg worth of equipment, its a nice item if you want to hang a single antenna, but wont hold a extender.
Advice
I mounted my 9dbi (1.6m/3.0kg) antenna on this suction mount. Keep in mind that for an antenna of these dimensions it will be better to use the mount 90 degrees off the way it is shown on the picture. Also the place where you will secure the pole to the suction mount is actually a handle and more to the point it is hollow inside - overtightening may brake/crack it. Find a way to secure the whole assembly additionally it may fall - after all it will be exposed to weather.
Does it's job
Does what it's supposed to do. Price on the high side.
Works fine
This antenna mount works fine. I used it in combination with a low-loss window passtrough cable and saw my earning double up compared to in-house. Sorry for the bad quality image.
In my personal opinion, it is way overprice, but I didn't trust myself in putting a similar mount together myself, so I just spent the money on this one.
Fast International Shipping

Easy 14 Days Returns

14 days money back guarantee*

Quick Support

Get answers to your questions fast via Live Chat, Phone or Email!