Regular price
€79,95 EUR
Sale price
€59,99 EUR
Unit price
per
Sale
Sold out
Comes with FREE galvanised pole mounting clamp (U-bolt).

The 6dBi Optimised Helium Antenna offers +7% forward Power Transmission compared to alternative non-optimized VSWR Antenna designs.
Results in higher coverage and Increased HNT $ revenue.
New Optimised Performance Helium Network Antennas from McGill Microwave Systems Ltd
McGill Microwave Systems introduce the 6dBi High Performance Antennas for use with the Helium Network offering superior Power Transmission compared to other commercially available alternative non optimised VSWR Antenna designs.
This new Antenna design has been specifically tuned to operate with peak performance over only the frequency band of interest to UK/EU Helium Hotspot operators – the UK/EU 868 frequency band.
Most commercially available Helium Hotspot Antenna designs available today are designed to be universal – meaning that the one product has been designed to cover both the European EU868 and US915 Frequency bands – resulting in designs that may be non-optimised for either frequency range.
Antenna Connector: N Male 
These optimised Antennas feature a superior VSWR performance of 1.5:1 maximum – which immediately results in over +7% more transmitted, non-reflected Power from your Antenna and reduced Mis-match loss when compared to many of the commercially available 2:1 VSWR performance.
Antenna designs combined with an excellent 35 +/- 5 degrees (6dBi) signal radiation footprint. According to etsi.org, this antenna may only be used to compensate for cable loss.
View full details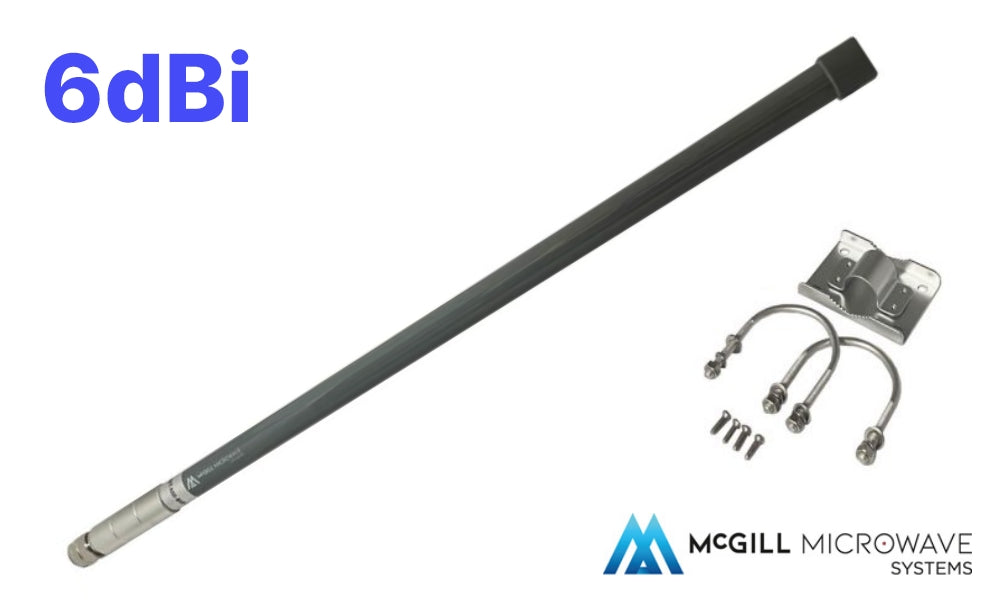 Top product
High quality antenna works excellent
Perfect. High quality.
The antenna is really good. Perfect together with the original McGill cables for linx dot, 4 mt N to RP SMA + 40 cm RP SMA window pass through. My rewards are really high exploded.
I use till now the original linxdot 3 Db antenna. Location: on the balcony, 20 m high. I become a becon (and rewards) about each 3 till 5 hours. And not so far away.
Now with the 6 Db Antenna from McGill, and the original cables, I receive each hour a bacon, also very far away (better rewards) and what is really surprising me, the antenna receive also waves from the frontside of our house (we live on the back site, 6th floor of 8th). Mayebe not the cheapest one but believe me. Itry before some cheaper solutions. Wasted money.
P. S. : the hexaspot delivery service work very good with DHL. I become the ware in Germany a couple of days after the order. Without any problem.
ja wat valt er over te zeggen
uhm naja ik had bijna de balpen die ik er bij kreeg in mn mast geplakt want zo klein is ie vergeleken met mn dikke 8dbi knoeperd van Rak haaha.. Maar in dit enkele geval blijkt toch echt Size doesnt matter HAHA en het is absoluut een f*ckeng goeie antenne voor boven in mn vlaggenmast want die andere was gewoon veel te zwaar en ik heb een flatgebouw voor mn huis die nog net iets hoger is en ik pakte van die kant gewoon helemaal geen reet. Nu Pak heel noord nederland nou dus Halleef*ckengluujaaa!!...Soms is het uren stil en dan pakt de Rak juist wel weer wat op maar dan pakt een andere 6dbi mcGill vlakbij het ook niet.. Het is een f*ckeng levend netwerk en je doet er gvd verder geen reet aan dus ben daarom wel heel blij met 2 mijnwerkslaafjes want ze hoeven geen vreten,geen drinken ik geef ze beetje hoogte en ruimte en veel meer kan je dr niet aan doen.. Wil de mcgill 9dbi nog wel graag proberen maar t*ringl**er is best prijzig!!!Naja en een goeie amplifire maar moet eerst de teleurstelling van mn Acasom aliexpres aankoop financieel even verwerken eerst want die doet gewoon helemaal geen REET hierzo dus..In kort: zeikers en mieren**kers de wereld is er vol van maar die mcGill 6dbi is geweaun een ****** GOEIE ANTENNE!!! dus plak m dr maar op en Suk f*cking 6.. Peace!!!
The Best Helium antenna
It's suitable for every height and every Helium miner
Good job
Prima dingetje, mooi grijs, vrij discreet. Doet zijn functie goed ondanks nog relayed te zijn. Kan alleen maar hoger worden
Fast International Shipping

Easy 14 Days Returns

14 days money back guarantee*

Quick Support

Get answers to your questions fast via Live Chat, Phone or Email!