Regular price
€300,95 EUR
Regular price
Sale price
€300,95 EUR
Unit price
per
Sale
Sold out
The 13dBi Optimised Helium Antenna offers +7% forward Power Transmission compared to alternative non optimised VSWR Antenna designs.

Results in higher coverage and Increased HNT $ revenue.
13 dBi Tuned Directional Antenna
McGill Microwave Systems has launched it's newest addition to our market leading Ultra High Performance Optimised and Tuned Lora Frequency Band Antenna series.

The Extremely Powerful & Unique 13 dBi Tuned Directional Antenna is directional and has the additional significant advantage that it can be tilted or moved in the Azimuth direction – unlike all other Omni Directional Antennas.

Omni directional Antennas radiate 360 degrees – this unique flat panel Antenna design is radically different in that it takes all of the radiated energy which usually would be transmitted behind and to the side of the Antenna and focuses all of this RF energy into the forward direction only – in one very high beam – typically 65 degrees Vertical beam width.
Typical applications:
Where it's desired to steer/direct the Radiated beam into a large or difficult to reach target area. This is achieved by utilising the unique feature of this Antenna design of being able to tilt or move in the Antenna utilising it's tillable and rotatable Antenna Mount (supplied) to focus the large beam exactly in the direction required.
Ideal for mounting on high up Balconies or Tower Blocks where Antennas are blocked from radiating in the rearwards direction.
Installations located on the coast where transmission to the antenna rear is not required/desired.
Installations located immediately in front of large hills or building where rear radiation is blocked and therefore not required.
The flat panel sector Antenna is small ,lightweight and unobtrusive and white in Colour.
13 dBi Tuned Directional Antenna Electrical Specifications
| | |
| --- | --- |
| Frequency Range (MHz) | 865-870 |
| Gain (dBi) | 13 |
| HPWH (Deg) | 65 |
| HPWV (Deg) | 18 |
| Tilt (Deg) | 0 |
| VSWR | ≤1.5 |
| Impedance(Ω) | 50 |
| Connection Type | N Female |
| Max Input Power (W) | 50 |
| Lightning Protection | DC Ground |
Mechanical Specifications
| | |
| --- | --- |
| Dimensions (mm) | 1120 x 280 x 80 |
| Colour | White |
| Radome MaterialUV | UV Stabilised PVC |
| Weight (KG) | 3 |
| Temperature Range ( C ) | -40 / +55 |
| Rated Wind Speed (km/h) | 126 |
View full details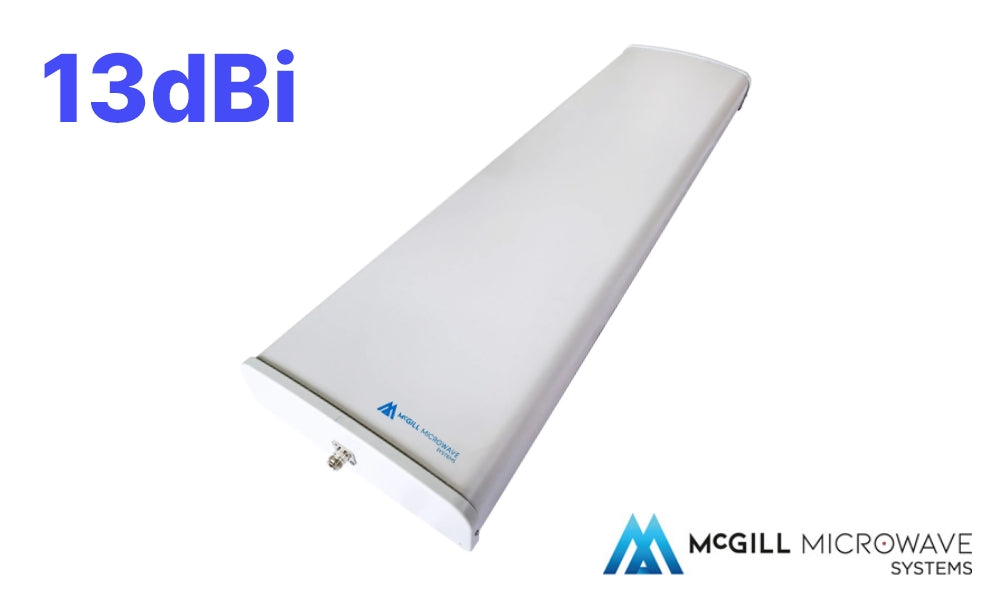 Unbelievable antenna!
Guys... I'm speechless... this antenna, is just...i can't even speak... AMAZING, UNBELIEVABLE!! For those who need a panel this is the way to go!!! Don't look back, and do yourself a favor, just get one!
Fast International Shipping

Easy 14 Days Returns

14 days money back guarantee*

Quick Support

Get answers to your questions fast via Live Chat, Phone or Email!