Regular price
€319,94 EUR
Regular price
Sale price
€319,94 EUR
Unit price
per
Sale
Sold out
IN STOCK

Ultra Low Loss Military Grade Helium Hotspot Resonant Cavity RF Filter (EU868)
McGill Microwave Systems, a leader in the supply of RF/Microwave  Antennas and Interconnect solutions for the Military, Commercial and Aerospace Markets, has innovated a new Ultra High performance Resonant Cavity Filter – which is specifically designed for Helium Hotspot/IoT applications and is available is EU868 and US915 frequency band versions.
This unique and ultra high performance Military Grade filter design by McGill Microwave is vastly superior to alternative technology SAW (Surface Acoustic Wave) technology filters which typically have large associated Insertion Losses of between 2.2 and 4 dB's—resulting in significantly reduced signals levels in excess of 50% being received by the Hotspot, reduced witnessing/beacons and reduction of HNT generation.
This Military Grade Filter designed by McGill Microwave Systems  is unique as it uses a completely different high technology filter technology, called Resonant Cavity, which offers dramatically lower Insertion Loss through the filter— typical 0.4 dB's.
The use of this unique Helium Hotspot filter increases the received power levels at the hotspot by up to 50% when compared to SAW Surface Acoustic Wave Filters.
This directly results in a significant increase in the number of witnessed beacons  (and therefore HNT Generation) in applications where Helium Hotspot performance is affected by RF noise performance or hotspot designs which have been manufactured with little or no filtering of the received witness signals.
This filter must be installed directly connected to the Hotspot Antenna – therefore in all outdoor applications this means this filter will be fully exposed to the outdoor elements.
As such, these Filters are fully IP 67 weather proof sealing rated, a specification commonly used in Military applications.
Another unique feature of this design are the connector types—in this case both the connectors are N Type Female & N Type Male.
This removes the need to use additional adaptors to connect this filter between existing McGill Antennas an RF Cable assemblies.
Many alternative  commercially available SAW  filter technology designs use SMA Female connectors – resulting in the need to use two more adaptors to enable their SAW filter to be fitted to existing Antennas and cable assemblies.
The use of two additional adaptors results in a  further performance degradation with up to another 0.6 dB's signal loss and further reduced performance, compared to this unique Helium Filter design.
ELECTRICAL SPECIFICATIONS
SKU
RCF-868
Pass Band Frequency (MHz)
865-870
Pass Band Insertion Loss (dB)
0.35 – 0.4 Nominal
Pass Band Ripple (dB)
0.1 Nominal
Pass Band Return Loss
-26dB Nominal
Impedance(Ω)
50
Connector Input
N-Female connector
Connector Output
N-Male Connector
Max Input Power (W)
20
Dimensions (mm)
130 x 52 x 61
Color
Guided Oxygen
Waterproof
IP67
Temperature Range (°c)
-40~+70°c
Surface Finish
Guided Oxygen
View full details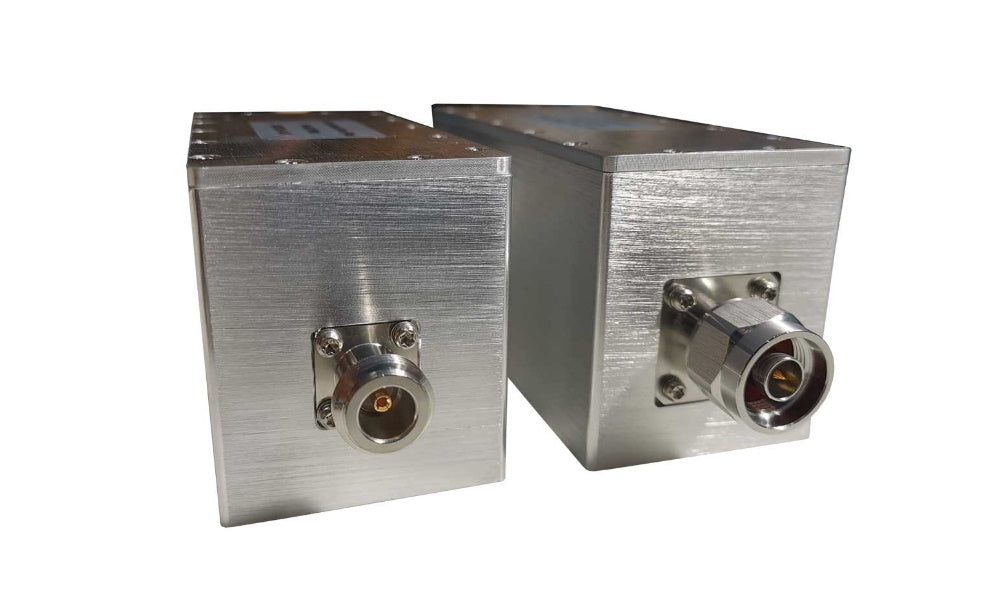 Super bandpass filter
Band filter works great. First at 12 meters coax from the antenna, not bad. But the Bandpass filter works best directly under a 9dbi mcgill antenna!
Groetjes,
Marc
Fast International Shipping

Easy 14 Days Returns

14 days money back guarantee*

Quick Support

Get answers to your questions fast via Live Chat, Phone or Email!